Work Experience update
This term students have been working at Kentish Town City Farm and Five Guys.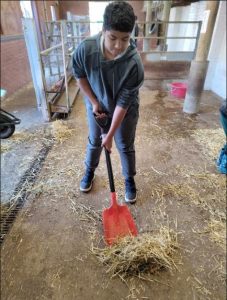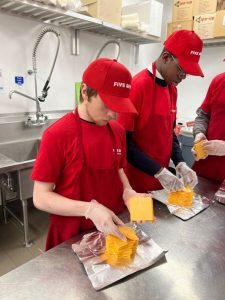 'Work experience was a really fun time, I enjoyed helping out at the Record shop 
while also spending time with my classmates. The staff have also been very welcoming and helpful'  
Year 11 student
'It was great and amazing! I like the jobs I got to do such as taking customers' orders and cutting cucumbers and tomatoes.'
Post 16 student
Work Experience in 2021-2022
Pupils in Post 16 continue to support PE lessons as Sports Leaders across the school.
Pupils in Post 16 work to support Forest Schools activities for younger pupils as part of the enrichment program.
KS3 pupils in Secondary East support with reading and library sessions for primary pupils.
Work Experience in 2020-2021
Pupils in year 11 completed work experience at Heartlands High school.  They worked alongside the catering and facilities team.
Pupils in Post 16 completed work experience as Sports leaders with younger pupils in the secondary department and primary department.
Off site work experience
Post 16 will be completing an employment placement at Morrison's from November 2021
Pupils from year 9-year 11 will be taking part in work experience at Heartlands High School in the Spring term.