Examination Pathways Prospectus
View and download
---
KS3 Formal Curriculum Overview
In Secondary East we want our students to be confident and have the necessary skills to live as safely and independently as possible. Students should be positively active in their local community and we will give our students the best possible opportunity to reach their full potential Post 16.
In the Secondary East department we follow 2 pathways. One academic pathway in which the students will work towards qualifications in core subjects. The second pathway being a more functional pathway that builds on the curriculum taught in Secondary West. An example of the content the students will be learning about in Secondary East is below:
Year 1
Subject
Term
Science
English
Maths
Humanities
Art
Computing
Autumn Half term 1
Cells and the human body (B)
Creative writing (stories and descriptive writing)
Counting and understanding numbers (Number and Place Value)
Dictatorship: Hitler, Nazi Germany and Stalin (H)
The City
Choice boards what you know/ inside a computer – how it works
Autumn Half term 2
Ecosystems (B)
Modern Novel (A Monster Calls)
Addition and subtraction, Multiplication and Division
Map Skills and Megacities (G)
Stop Motion Animation
Graphic design – the basics
Spring Half term 1
The Periodic Table(C)
Poetry (1st World War Poetry)
Length, Size and Height (Geometry) Weight & Volume (Geometry)
WWI (H)
Artist Research Project
Internet safety, Reality and Bias
Spring Half term 2
Forces (P)
19th Century Novel (Character – different extracts)
Time (Number and place value)
Natural Disasters (G)
Formal Elements of Art
Coding an introduction
Summer Half Term 1
Space and the universe (P)
Non-Fiction – (Newspapers, current affairs, different types of nonfiction)
Shape (2D), angles, triangles and symmetry (Geometry)
Invasion, Plague and Murder (H)
Various Projects – Google classroom friendly.
creating an interactive story
Summer Half Term 2
Physical and Chemical Reactions (C)
Shakespeare (Introduction and extracts)
Algebra
Weather Around the World (G)
Various Projects – Google classroom friendly.
Graphic design and animation
KS4 Formal Curriculum Overview
Pupils working at age related expectations follow the Formal Curriculum as part of the Secondary East Academic pathway. This curriculum incorporates the statutory requirements of the National Curriculum 2014 and other experiences and opportunities which best meet the learning and developmental needs of the students in our school. This cohort of pupils will have access to formal qualifications such as AQA Entry Level awards and GCSE.
Pupils who are working on the Formal Curriculum pathways have access to a curriculum that focuses on core skills of English, Maths and Science while developing their own skills to manage their autism effectively. Staff working with our academically able students are specialists in these curriculum areas and will have the ability to work expertly with young people with autism. The school provides specialist teaching drawn from the wider staff who may work across the school. The school has access to the specialist facilities and resources of the Trust's mainstream secondary school with subject expertise to widen and deepen learning in these specialist subject areas. Support will be provided with a view to fading support slowly in line with the pupil's progress and capability.
Classes are organised within tutor groups. Classes are small and staffing is high to enable the high levels of support required to ensure student success.
The intent of our Formal Curriculum  is for pupils to have the requisite skills to be successful, independent and motivated learners in readiness for their next stage of
Education. There is an aspiration that pupils following the formal curriculum will leave us and transition to college at Post 16.
Examples of KS4 Formal Curriculum Overview: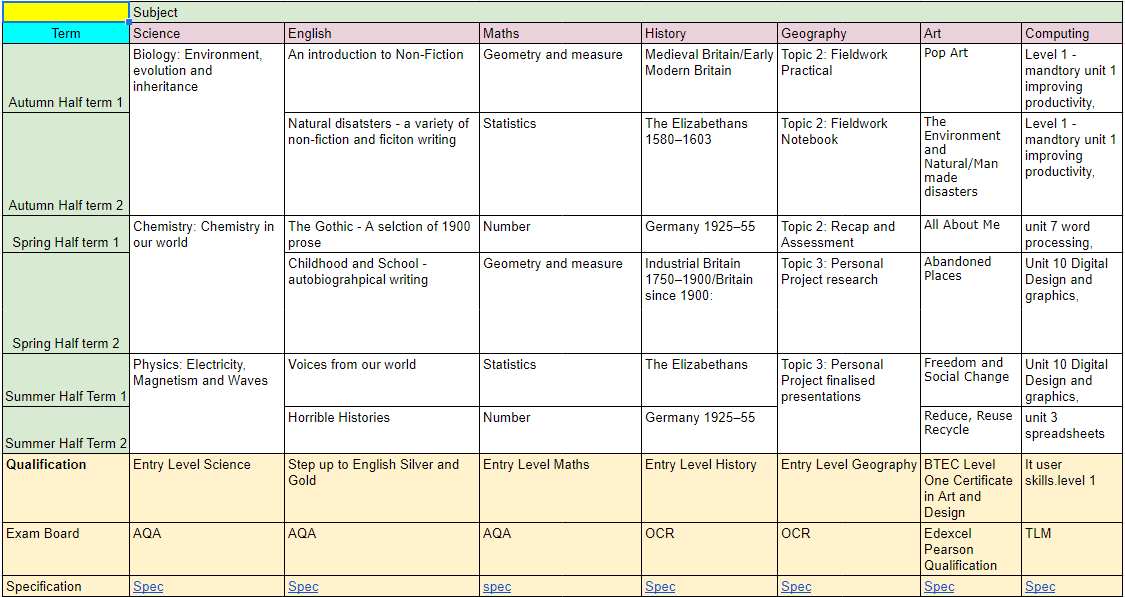 KS4 students follow an Independent life skills passport programme which lends itself to a cross-curricular approach. For some students, particularly those on a combination of GCSE and entry level courses, an Entry Level award or certificate can be achieved. Students with a full GCSE timetable may continue to achieve the Life Skills passport through target setting within the PLP. Independent life skills are taught through various channels, including shopping trips, planning public travel arrangements, organising class trips to places of interest, organising and running events, amongst others. The focus is to develop core skills in order that students can operate confidently and successfully in school, college, university, work and life in general. The independent life skills programme also promotes social skills, organisational skills, responsibility, self-esteem and independence.
Example of Secondary East Timetable for the Formal Curriculum:
Click on this link to view an Example of the Secondary East Timetable
Lessons are taught in double sessions to minimise the  transitions pupils  experience across the day. Double lessons are broken up by learning breaks and the lesson content covers two different topics. For example, during a double English lesson, the first part might be focusing on writing and the second may take on a reading or discussion focus. This helps to break up the content and keep the pupils engaged.
Subject specific teachers deliver lessons. Movement around the school is limited with pupils being taught in their classrooms unless a specialist room is required such as science or Art.