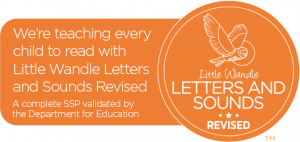 Little Wandle Letters and Sounds 
We follow the Little Wandle Letters and Sounds Revised Reading and Phonics Scheme, which is a DfE approved systematic, synthetic phonics scheme (SSP). Little Wandle is a scheme used by both mainstream and SEND schools and is structured in a way that can be adapted to suit a range of learning needs.
Little Wandle Letters and Sounds draws on the latest research into how children learn best, how to ensure learning stays in children's long term memory and how best to enable children to apply their learning to become highly competent readers. 
Little Wandle Letters and Sounds underpins the way that learning is sequenced, so that pupils can regularly consolidate their phonic understanding, and build on their prior learning. As part of the SSP, pupils learn new phonemes in structured phonics sessions at a pace that is appropriate. All classes use the same resources to ensure consistency, and lesson pace is bespoke for each group of pupils. 
Please see the Little Wandle website for parent information.
Reading Schemes:
Pupils have regular scheduled reading sessions, with matched decodable books that run alongside the phoneme progression. 
In order to provide for the needs of our pupils, we have two different reading schemes. Both reading schemes follow the exact same phoneme progression, but the content of each scheme is aimed at different ages.
Primary: 
Little Wandle Letters and Sounds
Collins Big Cat reading books support Little Wandle Letters and Sounds Revised phonics scheme. The books are fully decodable and feature an exciting mix of stories and non-fiction to foster a love of reading.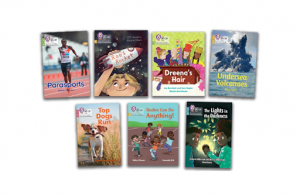 Secondary and Post – 16:
PhonicBooks Catch-up Readers
Decodable, synthetic phonics reading books with age-appropriate and exciting stories for older readers.  These matched decodable books use the same phoneme progression as the Little Wandle books, but the content and illustrations are more age appropriate for older readers. Each series of books is aimed at a specific phase and is highly structured to fill in gaps in phonics skills.

Foundations for Reading
At The Grove, we aim to promote communication and symbol recognition in order to build up foundation skills for reading. Supporting pupils to recognise and use visuals functionally, and to communicate needs and wants are central to all teaching at this level.
Attention and engagement are also key prerequisites to reading which underpin all teaching. Pupils take part in a multi-sensory, practical and exciting curriculum which promotes engagement and attention. Approaches such as Attention Autism and the TEACCH  Model are used across the school to promote enjoyment of and independence with learning. 
Reading for Pleasure
There is a big emphasis on reading for pleasure for all of our pupils. All classes have designated time in the library where reading for pleasure is actively encouraged and pupils are supported to find books that spark their interests or imaginations. All books used on the curriculum are carefully chosen and adapted (where appropriate) to ensure that reading opportunities are creative, imaginative and engaging.
Books going home:
All pupils take books home every Friday, to be returned on Monday. Pupils will take home both a matched decodable reading book (if appropriate), which they will have practised reading in class, and a 'sharing book' or a 'reading for pleasure book', which can be read with an adult or by the pupil.
Click below for further information on each phase.