Introduction
The KS4 curriculum at The Grove, caters for pupils with a primary diagnosis of complex or moderate autism with a range of associated learning difficulties.  We offer a broad and balanced curriculum that offers different pathways for pupils and their individual needs. The key aim is for pupils to develop independence in both their academic learning and their personal skills and to be recognised for these achievements through external qualifications and accreditation.
The curriculum is progressive and builds on previous learning from primary through to KS3 emphasising the skills required for each individual pupil to become ready for  the transition to post 16 education and beyond. All our work is designed around the ambitions and hopes of the young people, working towards their future destinations as outlined in their Education Health Care plan and their Transition towards Adulthood plan.
Success at KS4 looks different for every pupil, with an aim to decrease the adult support provided so that they will be able to function as independently as possible in their day to day life.
KS4 Semi-Formal Curriculum Overview
Key Stage 4 pupils working below age related expectations, are taught through the informal, semi-formal or formal curriculum dependent upon their needs.
The intent of the KS4 curriculum is to build on the experiences from the Primary and the KS3 phase and to support our pupils to become successful learners, confident individuals and responsible citizens.
The semi-formal curriculum is an adapted and modifiedNational Curriculum which is accessible, meaningful and relevant to all Pupils. Every lesson is planned to be challenging, enjoyable and successful for each pupil and there are many opportunities for practical hands-on activities and visits to places that enhance learning and extend cultural capital, ensuring learning is fun!
The majority of KS4 pupils are based in classes and have one teacher who delivers the full curriculum. The curriculum is delivered on a three-year rolling programme based on a thematic scheme. Themes have been carefully chosen to have a particular relevance to students and to build on and extend their knowledge and skills, enabling students to apply the skills and knowledge acquired in English, Maths, Science and other curriculum areas in a purposeful and concrete way. Each theme is designed to be broad and balanced ensuring coverage of Humanities, PSHE/RSHE, The Arts, Technology, Music, PE and MFL.
Examples of KS4 semi formal Curriculum Overview:
Term
KS4 Secondary West 
KS4 Secondary East
Cycle 

One

Autumn
Special Events
Special Events
Spring
Looking After Yourself
Looking After Yourself
Summer
My Community
My Community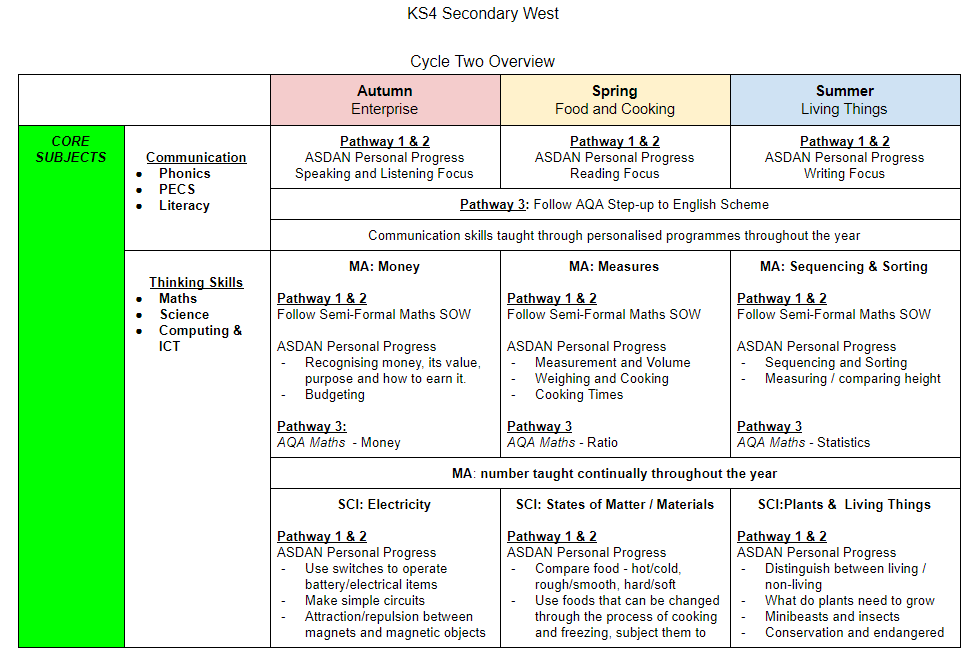 KS4 Formal Curriculum Overview
Pupils working at age related expectations follow the Formal Curriculum as part of the Secondary East Academic pathway. This curriculum incorporates the statutory requirements of the National Curriculum 2014 and other experiences and opportunities which best meet the learning and developmental needs of the students in our school. This cohort of pupils will have access to formal qualifications such as AQA Entry Level awards and GCSE.
Pupils who are working on the Formal Curriculum pathways have access to a curriculum that focuses on core skills of English, Maths and Science while developing their own skills to manage their autism effectively. Staff working with our academically able students are specialists in these curriculum areas and will have the ability to work expertly with young people with autism. The school provides specialist teaching drawn from the wider staff who may work across the school. The school has access to the specialist facilities and resources of the Trust's mainstream secondary school with subject expertise to widen and deepen learning in these specialist subject areas. Support will be provided with a view to fading support slowly in line with the pupil's progress and capability.
Classes are organised within tutor groups. Classes are small and staffing is high to enable the high levels of support required to ensure student success.
The intent of our Formal Curriculum  is for pupils to have the requisite skills to be successful, independent and motivated learners in readiness for their next stage of
Education. There is an aspiration that pupils following the formal curriculum will leave us and transition to college at Post 16.
Examples of KS4 semi formal Curriculum Overview: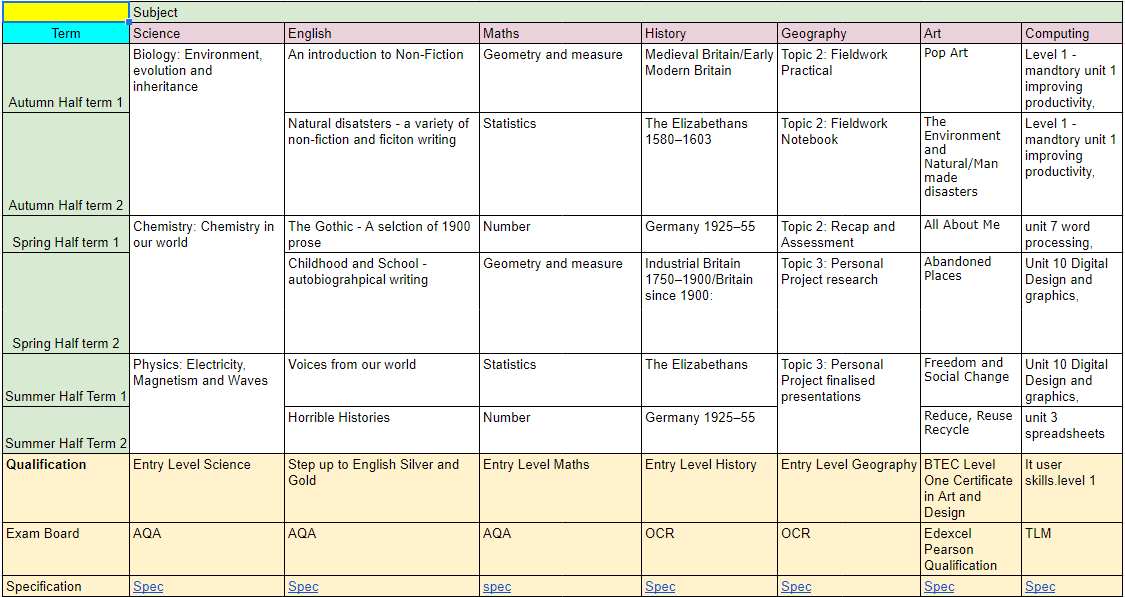 KS4 students follow an Independent life skills passport programme which lends itself to a cross-curricular approach. For some students, particularly those on a combination of GCSE and entry level courses, an Entry Level award or certificate can be achieved. Students with a full GCSE timetable may continue to achieve the Life Skills passport through target setting within the PLP. Independent life skills are taught through various channels, including shopping trips, planning public travel arrangements, organising class trips to places of interest, organising and running events, amongst others. The focus is to develop core skills in order that students can operate confidently and successfully in school, college, university, work and life in general. The independent life skills programme also promotes social skills, organisational skills, responsibility, self-esteem and independence.