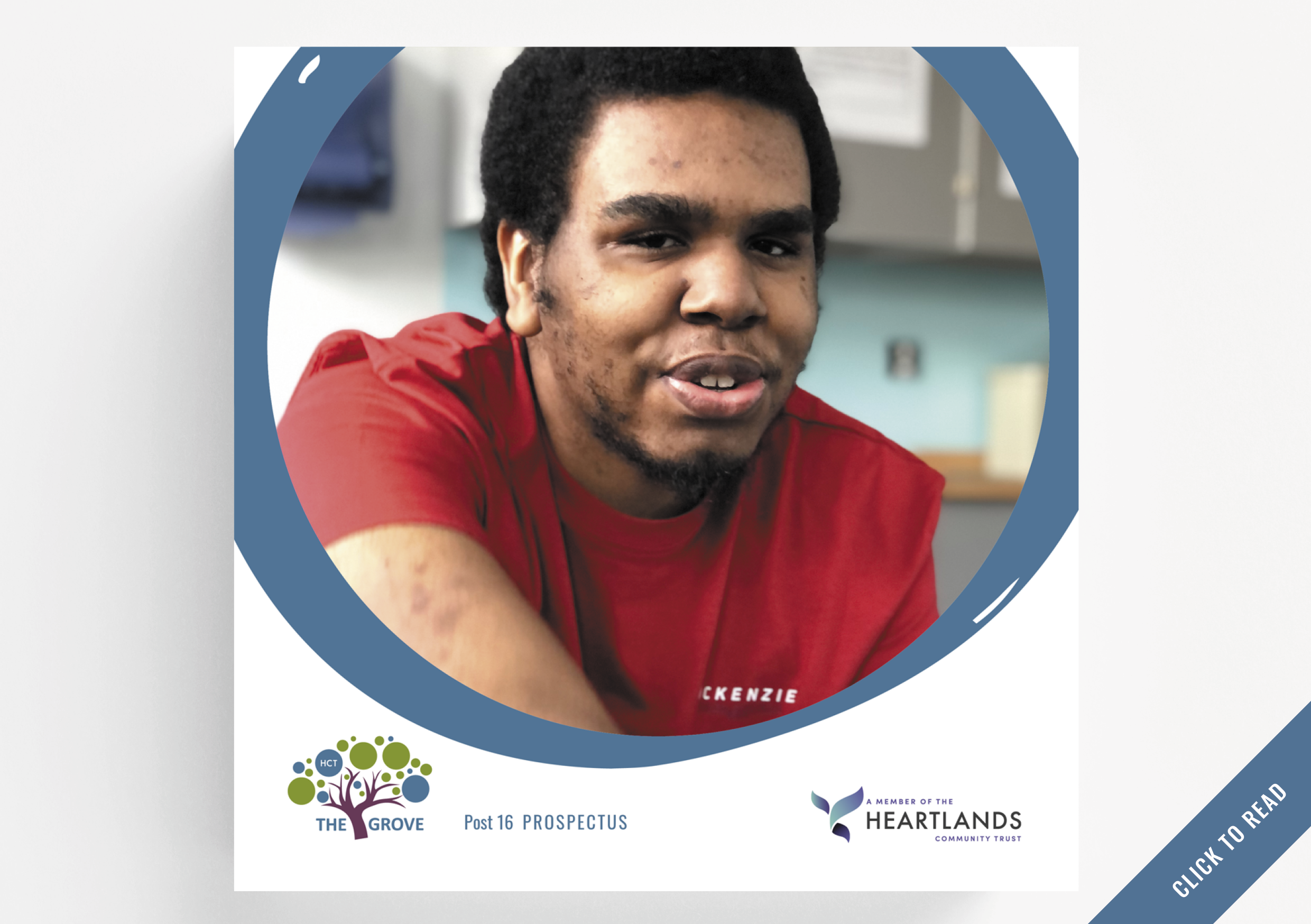 The Grove Post 16 Prospectus
View and download (pdf)
---
The Post-16 provision at The Grove, caters for students with a primary diagnosis of complex or moderate autism with a range of associated learning difficulties. Students already at The Grove will be prioritised for places as opposed to external referrals as long as their needs meet the admissions criteria.
The key aim within our Post-16 provision is that our students become independent in both their academic learning and their personal skills. We support our students in becoming as independent as possible, keeping in mind their specific needs and difficulties and we provide a safe bridge between secondary school and adult life. We do this through operating as independently as possible from the main school so that students can experience "transition towards adulthood" in every sense, including physicality.
We will build on previous learning in life and self-help skills so that each individual becomes more prepared for the transition to adulthood. It is our aim that all our students learn to become as independent as possible and acquire the tools to be able to manage the daily challenges of life beyond school. All our work is designed around the ambitions and hopes of the young people, working towards their future destinations as outlined in their Education Health Care plan and their Transition towards Adulthood plan.
In our post-16, we will take a personalised approach to learning. The curriculum is flexible to meet individual's skills and abilities supported by continued therapeutic input where required. Each student has a timetable that reflects targets and goals for the future.  We offer different pathways which are flexible to each student's need. Pathways can be mixed and matched according to what each young person wants, therefore offering flexibility.
Success at post-16 looks different for every student but we aim to decrease the adult support provided to our students in their academic learning and personal skills so that they will be able to function as independently as possible in their day to day life.
This may even mean that in the future they can move on to educational settings with decreased support or into the world of work. Achievement is valued and all Post 16 students should leave The Grove with nationally recognised awards. These may include ASDAN awards, Edexcel Functional skills Entry Level 1–3 qualifications, and/or Certificate or Diploma in OCR life and living skills. Students, their families and staff work together to create a timetable that takes into account student engagement, aspirations and interests.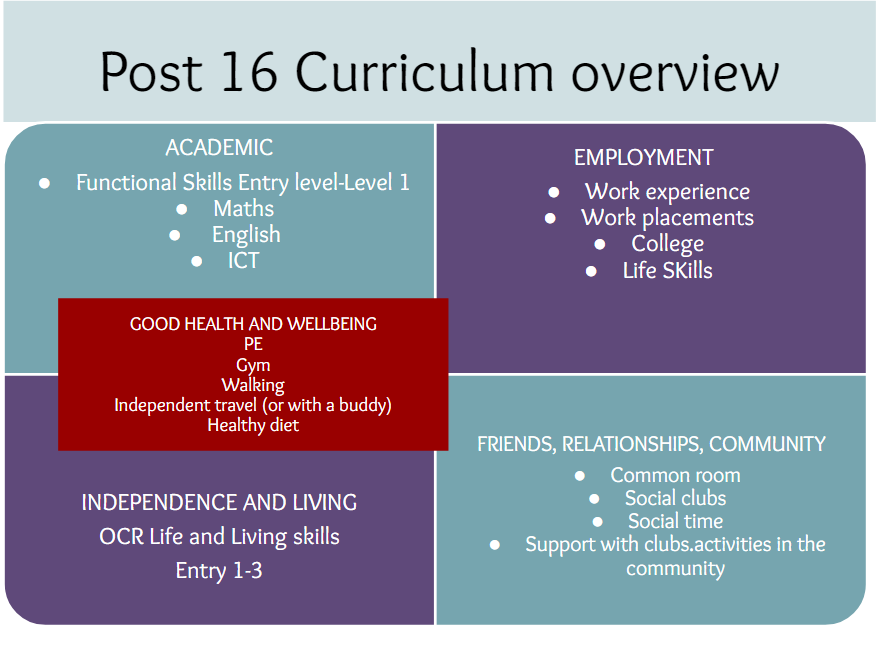 Within Post-16 provision, a pupil will follow a timetable that covers core subjects alongside life skills and work related learning. Our Curriculum is taught over three years and follows a program of study that is topic based and linked to employability and adulthood.
Example of timetable below: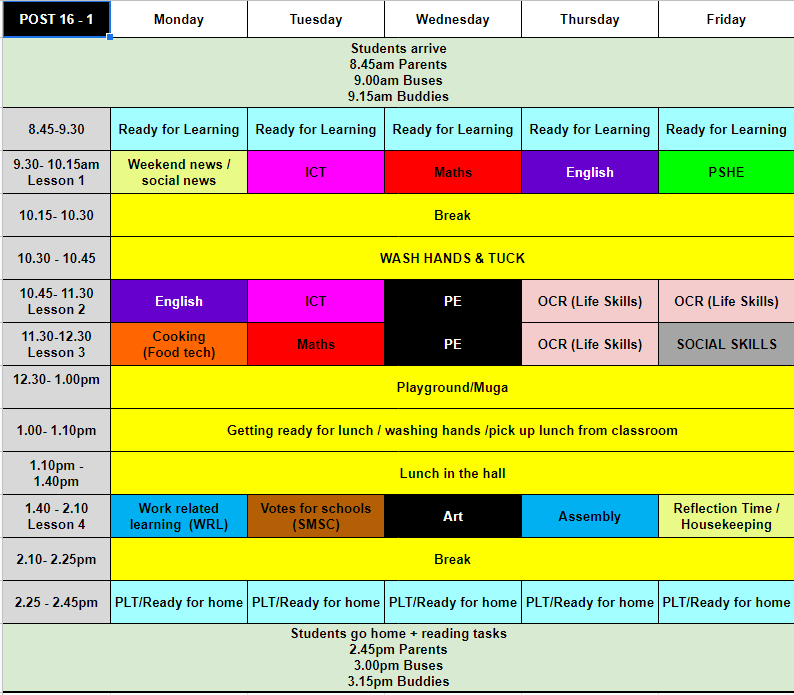 At Post 16 pupils will have access to:
College support: We provide support in college programs however the aim is to decrease this support over time in order to promote independence.
SCERTS framework continues to provide focused areas of learning to support personal development, communication and wellbeing.
Integrated OT support: Through the teaching of practical lessons, the OT supports students in acquiring functional life skills.
Communication skills with SALT – The SALT continues to support student progress in social communication skills.
Support for well being through a range of therapies such as music therapy.
---
Transition Planning
At The Grove we believe that a clear transition path to post 16 and beyond is important for our students, their families and the school. Having an effective system in place allows our students a smooth transition year upon year. For this reason the transition process at The Grove starts at the end of key stage 3 in year 9.
A Transition towards Adulthood plan (appendix 1) is created based around five key areas:
Academic
Employment
Independent Living
Friends, Community and Relationships
Good Health
For more information visit: www.preparingforadulthood.org.uk
The planning process takes place as follows;
Year 9
A PCP review is held where the student, family, school and professionals work together to complete the school's Transition Plan Towards Adulthood. It is during this meeting that we work collaboratively to develop the key targets and milestones for each student taking account of their EHCP outcomes and their aspirations for their future.
The Plan Towards Adulthood will be started in collaboration with school and families. Students will also begin their 'Vocational Profile' that will continue with them as they move through the school.
Workshops will be offered for families around transition and options post 16 and beyond.
Year 10
PLP meetings and annual reviews will review update planning for KS4 outcomes and any changes made to planning for adulthood.

Workshops and training offered for families around transition and options post 16 and beyond.

Review Vocational profiles and Transition to adulthood plans and update.

Year 11
A PCP review gathers information and this is used to ensure the appropriate pathways are identified for Post 16.

Review planning to adulthood documents during PLP meetings and update.

Review Vocational profiles and update.

Workshops and training offered for families around transition and options post 19 and beyond.

Year 12
Review and update planning and progress at Post 16.

Review planning to adulthood documents during PLP meetings and update.

Review Vocational profiles and update.

Year 13
A PCP review gathers information which is used to ensure strategies and supports have been updated in planning for beyond school and towards adulthood. Under the mental capacity act (2005) student's views are counted as central to this review and will form the shaping of the pathway for year 14.

Review planning to adulthood documents during PLP meetings and update.

Review Vocational profiles and update.

Year 14
Review to discuss progress and next steps. Students, families, staff, professionals and external services meet to ensure a successful transition beyond school.
Transition planning engages external professionals and bodies, such as colleges, Local Authority, Connexions, CAMHS, Parent Partnerships, social care staff or other persons relevant to each individual, to smooth the change of setting at the end of the learner's placement with us.
At the end of their time in the post 16 provision, students will take part in a 'graduation' ceremony, where their achievements will be celebrated by their families, staff and peers.
The Grove 16–18 published performance table information click here.